For quite a while, Tomo has been trying to convince me to attend the Fuji Rock Festival, held every year at the Naeba ski area in Niigata-ken north of Tokyo. While I love a good live show, and the open mountain space seemed cool, I never made it there. Music festivals sometimes seem like more work than fun: I've been to two Coachella festivals, and one Summer Sonic. Both of them were extremely hot, multi-day draining experiences. Of course, I saw some good acts, at those festivals, but I will admit I was looking forward to the end of the festival.
Since I feel like I am living a little bit on borrowed time here in Japan, I decided I would attend Fuji Rock this year. And I'm really, really glad that I did and will most likely go next year if I am still here. There are still plenty of excuses I could make not to go, and they are all true. There is no convenient way to get from Nagoya to Naeba – if you go by train you still need to go to Tokyo, if you go by car it is a 6 hour drive that is fairly inefficient, and if you take a night bus, well, that's just hell. Also, it ALWAYS rains at Fuji Rock. Always. Plus, late July, early August in Japan is super hot and humid, even in the mountains. Each one of those excuses came true (well, no night bus), but I overcame them and my age and had a blast.
One additional problem is that Tomo almost always has some commitment for Fuji Rock as well, so he doesn't really get to see the entire three days as a concertgoer. This year was no different, as he had obligations for Saturday and Sunday of the event. I really wasn't that keen on spending two of the three days at the festival alone, but I cajoled one of my young Japanese colleagues to go to Fuji as well. Thanks Kanamori-san for joining on Sunday. It made the experience that much better.
Prior to the festival, I did my necessary scholarly research and learned of some new bands. Many already had a buzz about them, so picking up a few albums on iTunes was a welcomed expense. The way the lineups were shaping up, Friday and Sunday were looking amazing and Saturday was looking, um, well, not that interesting. Sorry John Fogerty, I've never really liked your voice or your solo work.
In order to get to the festival for the first band, we decided that I should come up to Tokyo on Thursday night so we could catch a 7:00 am train from Tokyo Station on Friday morning. Of course, I had a full day of work, on a really hot day as well so finally getting on the train felt great. Vacation.
By the time we were buying our shinkansen tickets to the nearest train station to Naeba, all the reserved seats were sold out. Uh oh. This was not to plan – I had expected the tickets would have been purchased already. But, no biggie, we got seats on the train no problem. Once we got to Yuzawa, the line to catch the shuttle bus to Naeba ski area was probably 1 hour long.
It was about 8:30 am and the first band was at 11:00 am. We were already pushing the schedule. Hey, things take time. Tomo did some scouting and discovered a taxi ride would be about 7000 yen. But split 4 ways, it was only about 2000 yen each. Definitely affordable. It took about two seconds to find two people to share the taxi and away we went. We arrived and started schlepping our luggage to the area where Tomo thought was the drop off point. Except it wasn't. I felt a little silly dragging my over-nighter around with me while other more rough-and-tumble festival types were camping.
Others went for tiny car camping.
We got almost to the ticket area and merchandise area and then Tomo realized that the left luggage area was the other way. Oops. At that time, we decided to get our wristbands since we were nearly there. Already the line for wristbands was really long, and definitely was going to get much longer. Fortunately, we were on the guest list for that day thanks to Tomo's connections (thanks to The Cribs!) so it was really easy for us. No wait, just our special red wristband.
The merchandise line was really long but we decided we could come back for that later. We started against the crowd to drop our luggage. As we were heading in the general direction, I suggested to check with our "ryokan" to see if we could just drop off our bag even though check in was at 3:00 pm. The answer was basically, "Sure, no problem." So we had a plan – everything would be taken care of. We would have checked in, our bags would be were they needed to be, and all we had to do was enjoy the show. At this point, it was getting hot already and I was wondering if boots with wool socks was a smart idea. Short answer – the weather is very changeable and it was a great idea.
I'll summarize all the bands we saw at the end of this entry. But the opening band was, "Superfly," a pretty popular Japanese band. We made it for the start and enjoyed it a lot. FRF has about 5 main stages spread throughout the valley, with about 3 or 4 small DJ stages elsewhere. On the first day, we didn't make it beyond the first two stages – the Green Stage (headliner stage) and the Red Marquee. I would call Red Marquee the stages for up and coming bands (although Fishbone laid down a set full of hate towards an ex there).
Superfly on the Green Stage
Even the young enjoy the show
And the crowd behind.
And the Red Marquee
Tomo had raved about the food and he was not wrong. The food was excellent. We immediately enjoyed とろろめし (tororomeshi) for breakfast on Friday. I actually enjoyed it EVERY morning. Basically, it is rice, soupy ground Chinese potatoes, and a little soy sauce. That's it. Kanamori-san told me that the rice from Niigata is the best rice in all of Japan. Maybe that was the secret. I don't know. I just know the food was great. We also enjoyed miso soup, pizza, ramen, tacos (as in Mexican soft tacos, not taco like octopus), corn on the cob with soy sauce, and of course beer. We were lucky for the most part because the oft promised rain came without fail. There's basically only one covered stage – the Red Marquee – and we were in it when the rain came. We weren't so lucky when we were eating dinner, but soon were able to move inside the tent and stay dryish.
We were able to enjoy MUSE together. Unfortunately, the beginning of the show was somewhat impacted by a totally obnoxious, totally drunk Brit. Imagine a rude Brit? So out of character. Once the crowd started surging when the music really got going, we decided to beat a hasty retreat and enjoy the full spectacle of the show without injury or burns from the Brit smoking in the no smoking area.
We headed back to the ryokan and soaked our tired bodies in the public bath in our ryokan. Tiny bath, and not very clean but the water was hot and it felt good.
Japan is very conscious of manners, or マナー (mana-) as it is called here. It is such a crowded country, manners go a long way. What was absolutely amazing about this festival is that the grounds are so clean and so respected. People bring their trash to the trash area and sort it very specifically. I think that's great. I think it is amazing. Coachella becomes a big trash can by the end of the night and it all has to be cleaned up for the next day. But in Japan, the grounds, although muddy, are very clean.
Saturday
From early Saturday morning, I was solo due to Tomo's commitments. There was still so much I had not seen though I could spend the whole day alone and just wander the site. In the morning I did decide to get some merchandise. Unfortunately, by the second day, the shirt that I really wanted was already sold out. So was my second choice. Not to be deterred, I bought something anyway. That's good marketing – settling for your third choice because you just want something.
I caught some bands in the morning and then took the "Dragondola" to one of the local peaks where people were decidedly more "chill." If this was Coachella, I'm sure the smell of pot would be everywhere. The whole weekend I caught one strong whiff only.
Of course there was a shop dedicated to THC
Actually, I am quite amazed at the ability for Japanese to sleep anywhere, anytime. True, alcohol could have something to do with it as could a difficult night of sleep in the rain in a tent, but every at every stage there where people totally crashed in their chairs, on a tarp, on the grass, wherever.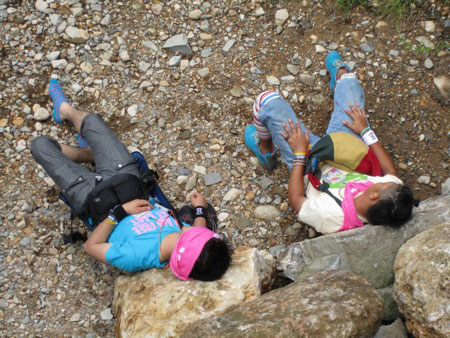 The Day Dreaming and Silent Breeze stage had a clearly chill groove to it, and was very relaxed.
I returned and ducked down below the gondola to hit a REAL bathroom, and as I came out, so came the rain. Lucky again, sheltered in an otherwise wide open festival. I watched the rain fall down around me and enjoyed the boots of the kid hanging out with me (well, actually with his parents).
Actually, as I said before, the fashion was very interesting, very much just wearing what was necessary to battle the elements. I saw a lot of shorts and leggings on guys and girls, and the variety of rain boots astounded me.
I wandered around the various stages and saw each of the areas, including a Dog Park, a drumming area, Orange Court, Field of Heaven, the NGO Village, and the White Stage. I encountered some surprising bands like a bluegrass band from the UK, and a New Orleans group that sounded like any one of 1000 house or show bands, complete with a cover of, "Shout."
Dog Park
Stone Circle drumming
Orange Court
Acoustic stage
Field of Heaven
NGO Village
Kidsland
White Stage
The ski area has a nice walk through the woods that revealed an acoustic stage and lots of interesting light art. I actually walked the boardwalk twice, once in the day light and once as the sky darkened so I could get the full effect of the mirror balls.
I caught a little of Fishbone as I ate some food but the rain started coming down. I decided that it would be better to get a restful evening since Sunday was a big day, so I headed back to the ryokan in the rain so I could get dry and relax.

Sunday
Kanamori-san was going to drive up from Nagoya on Saturday, but he arranged some people to share the ride and share the cost, so his 6 hour drive started at about 10:30 pm on Saturday night. Poor guy, I had been sending him tons of advice from the festival, "Rain boots, camp stool, rain gear, rain boots, muddy" and so on. He probably was ready to kill me. He found rain boots, and we both determined that no rain would happen since he had them.
We had a last minute back and forth as Kanamori-san was bringing people with him, and those folks might be looking for a place to stay. I had room for two more on Saturday night, but Sunday was full with me, Kanamori-san, Tomo's friend, and the friend's friend. The logistics was seeming to work out, and I told Kanamori-san to call when he got to the ryokan and everyone could crash for a few hours of sleep. Like clockwork, at 5:00 am, the phone rain and Kanamori-san was there, drinking a celebratory beer with … 3 other people.
Uh oh. Definitely only room for a total of 4 people and now we had 5. No problem though, as one had another place to stay.
We slept a little bit more, 4 very cozy in a 6 tatami room. The Kanamori crew got past the logistics pretty easily and then we went to have とろろめし again for breakfast. At that point, Kanamori-san said, "I'm already happy," which made me happy as well. After all, when you feel somewhat responsible for someone spending a bunch of money and traveling 6 hours by car, you hope they don't say, "Well, this really sucks."
We wandered from stage to stage, and met up with Tomo for a little bit as well as he had some down time. Tomo sought out Thom Yorke for an autograph, found him, but was DENIED! He was able to see Flea and have a chat with Jake Shears though.
We met up with Haru-san, one of the travel companions, and her crew at the Green Stage. It was nice of the crew to welcome us into the fold. I hung with the over 30 crowd while the young ones fought their way towards the front for Atoms for Peace. We were all given flashing rings to celebrate.
The day was remaining relatively rain-free, and the curse of the rain boots seemed to be doing its job, and also quite a job on Kanamori-san's feet as huge blisters were developing. Then, during Belle and Sebastian, the drizzle started. By the time we made it to Scissor Sistors, it was a full fledged downpour. At that point though, I was caught up in the music and the festival, and danced, danced, danced. What a great way to end the festival.
We made it back to the ryokan to meet Yaya and her friend, and then the various members of the crew showed up as well. Ichikawa-san ended up sleeping in the car. Sorry dude. But he's young. He continued to sleep on the way home too.
It was Grand Central Station at 1:30 am in the ryokan and a bit confusing, but things settled down and we went next door to an onsen, stood in line for about 15 minutes waiting to use the shower, and then had a very nice soak in the hot spring water. So nice.

Monday
Monday morning we woke up as planned, loaded up, and headed back to Nagoya. The roads were clear and the weather was fine, and we made the journey in about 6 hours. The time flew by for me.
The festival was fantastic, and I want to go again. I hope I'm around for it next year.

Bands

Friday
Superfly (Green Stage) – Japanese band to kick off the festival. They were the NHK theme song for World Cup this year, so I was familiar with the sound. The lead singer could really sing, and she did a cover of, "Natural Woman." The pronunciation was a little questionable at times, but the voice was amazing.
Jamaica-Live (Red Marquee) – French band, singing in French and English. The were good. It was early and I forget most everything about them.
The Cribs (Green Stage) – Thanks for the guest list. And now I've seen Johnny Marr perform. We were way back in the back and they had a hard time reaching the audience back there.
Miike Snow (Red Marquee) – Excellent. I've heard mixed reviews about them live but they were very fine. Are they orthodox?
Broken Bells (Red Marquee) – I remember nothing.
The XX (Red Marquee) – Very art school. I think they may be too cool for school, or maybe really interesting to talk to. There's such a fine line between brilliant and stupid.
MUSE (Green Stage) – Getting bigger and bigger every show. Heading towards arena rock self importance. Still a good show.

Saturday
Dirty Projectors (Red Marquee) – I kept calling them DIrty Professors, maybe because I'm still scarred by my EE professor getting a little too close for comfort. Anyway, had the misfortune of having the same drunk Brit from Muse stand next to me eating and getting in a food fight with his mate. Classy. The band was fine.
Kula Shakar (Green Stage) – Just heard them passing through the Green Stage area.
Third Eye Blind (White Stage) – By mistake. Wrong place at the wrong time.
Kitty Daisy & Lewis (Field of Heaven) – After hearing their bluegrassy sound I didn't expect them to be Brits. But they were. They brought on a Jamaican trumpet player as well. Anytime you bring on a trumpet player I'll perk up. Very entertaining.
Trombone Shorty & Orleans Avenue (Field of Heaven) – I had NO plans to see this band. I didn't even know who they were. But Mr. Shorty wasn't so short, could sing, could dance, played trombone, and played trumpet. How in the HECK did he switch from Trombone to trumpet? I'm guessing he plays from two different positions so he's got his trumpet embouchure and his trombone embouchure. Felt like a Vegas house band, but the crowd was really in to it.
Fishbone (Red Marquee) – Caught a little bit of their vitriol as I was trying to have some dinner and escape the rain

Sunday
Matt and Kim (White Stage) – Like watching a kids TV show with expletives. Really energetic, really goofy, really fun, but bordered on gimmicky.
Ocean Colour Scene (Green Stage) – Guitarist plays with Paul Weller now. Rocked out. The crowd enjoyed them.
Akihiro Namba (White Stage) – Another band I had not planned to see. Japanese, kind of punk. Apparently were really big about 10 years ago. Kanamori-san wanted to see them. They started to play "Stay Gold" as I was fiddling with my phone or something. Everyone rushed the stage and I ended up taking refuge in front of Kanamori-san. High energy, fun show.
Ozomatli (Field of Heaven) – Everything I miss about multiculti Los Angeles. Hispanic, White, African-American, Asian all represented in this band, with lyrics in English and Spanish. It felt so LA, and even the songs are about LA. The crowd enjoyed them as did I.
Vampire Weekend (Green Stage) – I was really excited to see them, but watched them from far away. As the show went on, their energy seemed to dwindle. Actually, I was disappointed in their live performance. Still love their album though.
Boom Boom Satellites (Green Stage) – This was another Kanamori pick. I was blown away – electronica meets rock. A Japanese duo who seemed to hit it big in Europe first. After watching them, I didn't even bother to see Hot Chip or LCD Soundsystem.
Atoms for Peace (Green Stage) – Although Thom refused an autograph to Tomo, I still allowed myself to watch. AFP seemed to be generating the biggest buzz. They were great as I expected. I am not as familiar with the music as I am Radiohead, so I didn't connect as much. Thom was looking really bad, but sounding really good.
Belle and Sebastian (White Stage) – Belle and Sebastian are always good. Maybe it is the trumpet that brings me back. I really enjoyed their show even as the rain started falling. They even did a sing-a-long for a song that hasn't been released. It will be soon.
Scissor Sisters (Green Stage) – Last gig, pouring rain, and I danced my pants off. Jake sounded great and was loving showing off his new body. I really did dance a lot to this show.

And now for some pictures that don't really go anywhere else.
Along the river
General scene around the Green Stage
Some Engrish. Not sure I want to drink from the Womb Bar.
Words don't mean the same in Japan
And to leave with the youthful enthusiasm of a young kid drumming his Dad's head.