I haven't been doing a very good job keeping up with my blog. I feel like I should always have some sort of picture accompanying my entries now. I'm not sure why, but it does seem to make it more interesting. But, alas, I really don't have any pictures yet. Maybe I'll post this later and have some pictures.
 
Current Health Update
My phone calls from the Naka-ku health center have finished. I remained asymptomatic for 10 days after my re-entry to Japan so they've given up on me. Everyday between 9:59 am and 10:01 am I got a call from the health office. I usually replied before they could really ask me any questions 気分がいいです (I feel well) or まだ元気です (still healthy!). I admire their perseverance. I can imagine now that the Golden Week (ゴールデンウィーク) holiday has just finished they must be extremely busy. Anyway, I'm glad the calls are ending and I'm glad to not be sick.
 
Reintroduced to Two Old Friends
Last Sunday I met two friends I hadn't seen in a while – my ママチャリ (old school bicycle) and a trumpet. The weather was nice and I felt it was time to dust off the bike get some exercise, and explore the city. I ended up riding for about 2 hours. It isn't the same exercise as a super-slick titanium road bike but I still had a good time.
I was going to ride to Kanayama and try to go a little past it to the Aeon Mall (I was killing time). I got a little confused by using train tracks as landmarks and ended up getting completely lost. Luckily, there is a very tall building in Kanayama, so I just kept heading for that building once I was turned around. I stumbled across the mall and used that as a landmark to head to Nagoya, but then I started thinking that the direction I was heading put the mall on the wrong side of the train tracks. Say what? So I asked a passerby which direction to Nagoya Station, and sure enough it was the other direction. I thought I was pretty good with sense of direction but I was totally messed up. I checked my detailed maps when I got home and realized that the tracks bifurcate (I love that word) at Kanayama and I was following the wrong tracks for a while that actually ended up going back towards my home. So I think I was almost home before I turned around to head back towards the Kanayama building landmark only to head back home again. What can I say, I actually enjoyed getting lost.

How did I come across a trumpet? On May 1, I went to dinner with a colleague to Nanpu again. While we were going there, my colleague said, "Takeshi is trying to learn to play the trumpet, he has one at the restaurant but he doesn't know how to play." I got completely excited by that. Hey, I could teach him! When we got to the restaurant he showed me the trumpet – it wasn't a Bach Stradivarius but it would do. Out of curiosity I just looked up the list price of a Strad – only $3250. YIKES! I hope my old one at home in LA still plays. I went out Sunday, bought my own mouthpiece and went to the restaurant on Sunday to start the lessons. How do you teach someone to buzz their lips so that they can get the proper resonance out of the mouthpiece when it is second nature? Anyway, I told him to practice with the mouthpiece. I played his trumpet a little bit. My tone, control, and range all sucked but I got a real kick out of it. I wish there was a way to play without blasting everyone away. Trumpets are loud. Sure, there is the cheesy Yamaha practice mute, but I tried that about 15 years ago and didn't like it because there was too much back pressure and the balance of the horn was off. However, I may consider it again, it was so nice to play the trumpet again. I will have to relearn though because my embouchure is completely changed after braces. I may go again Sunday to try another lesson.
 
Current Fashion Trends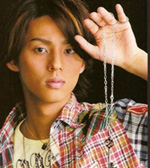 Japan is a land of crazy fashions. This is the land of tight T-shirts with fancy, sparkly cursive writing words, dyed hair, hair clips, and extremely manicured eyebrows. And those are just the boys! The girls dress about the same.
Now that it is late Spring, early Summer, I've noticed a new fashion trend with some of the younger guys. Apparently leggings underneath shorts are in style. Last weekend I saw at least three instances of that style. The leggings are black and typically go below the knees to mid-calf in a kind of haphazard, scrunched look. I guess it is versatile – just slide them down when it gets too cold. I used to have arm warmers and leg warmers for cycling, but those were a little different. I can't say it is a bad but I'm not sure I could pull it off. I did quick websearch on "japanese boys leggings shorts photo" took me to this blog. Gosh, I guess Nagoya is a year behind. Not surprising at all.
Who wears short shorts? Apparently Japanese girls wear them – now is also the time for the shorts to come out. And I mean short shorts. There are all sorts of variations on the style but the most common style this time of year is short shorts with stockings pulled up over the knees to mid-thigh and usually heels. Mleh. I think it looks silly. I suspect as the days get progressively warmer the length of the stockings will decrease. The shorts can't get any shorter though.
I tried today to get some pictures of these styles to augment the description. However, I feel kind of 助平 (sukebe – lecherous, lewd) trying to get the right picture for the example. I don't want to perpetuate the ugly foreigner stereotype so I gave up pretty quickly. As I go out riding later today or tomorrow I'll try for some pictures but don't count on it!
I did run across a nail shop with an example of their wares outside. When I first saw the picture of the bling on the nails I thought it was a fungus. Oh my.
 
Music
I'm currently listening to the J-Pop band RADWIMPS pretty regularly. They actually write their own stuff, play instruments, and everything. A real band! I saw them at Sumer Sonic last year and really enjoyed their live performance. They released a new album recently and I can recommend it.
 
Weather
Japan is a land of seasons beyond just the regular four. Right now the weather is fantastic, but I can feel it heading towards rainy season and then the dog days of summer. Instead of sitting inside writing this blog I should be out on my bike, and I will be soon. It is probably going to reach 28 degC (82 degF) today and 29 degC (84 degF) tomorrow. After three days of rain the sun is nice, but the humidity is starting to pop its head up say, "Beware, I'm just around the corner to completely smother you!" Ah, well, that's OK too.