As I said I had really good tickets to see Coldplay in Kobe. Two nights of general admission tickets. It is very interesting how they handle general admission here. Or I should say at least at these venues / concerts. You queue behind a flag that has your general admission number. We were numbers 4 and 5 for Saturday's show, and numbers 49 and 50 for Sunday's show. They call you by number and line you up and SLOWLY move you through bag check and then through ticketing. Security leads you in to the venue, all the while people maintaining two single file lines. Once you are in the venue they lead you on to the floor, still maintaining the single file line. Slowly you approach the barrier in front of the stage. About 2 meters before the barrier security basically yells something and then it is a free for all. I had asked Tomo what our strategy was the first night and just followed him. Obviously with the numbers 4 and 5 we got front center.
The next night we had a bit of a communication breakdown. We agreed to go right, and then he darted left. Say what? He said he got caught up in the moment. Somehow in the midst of all that shuffle I ended up able to stand next to him on the barricade. Of course, more intimacy followed for the entire show.
I was, as far as I could tell, the only white guy on the barriers. The first night, Chris bounced a drum mallet in to the pit. I tried to ask security for it but no luck. At the end of the show, I got a gaijin cameraman's attention and he handed me the mallet. Happy Valentine's Day Tomo! So Tomo now has a "touched by Chris Martin" concert souvenir. I don't think the Japanese liked the white guy to white guy bonding moment. Sorry. The next night we were right by the cameraman, so we chatted him up for a little while. He was from LA so we shared some common LA stories.
Here you can get an idea of the barrier and the edge of the stage. Pretty close, huh?
Here's a serious picture of Tomo and I at the concert, and the crush of humanity behind us.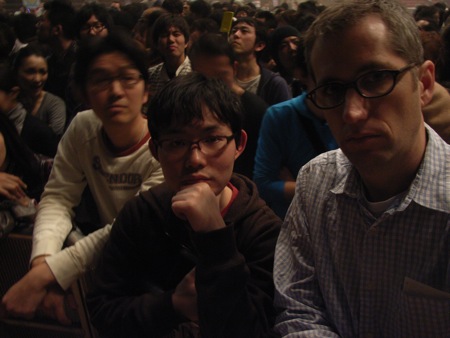 Chris moves around a lot, so I was only able to get a couple of non fuzzy pictures.
Finally, here is an idea of the stage. They had these cool projection balls that I really liked.