For a normal weekend, a Saturday trip to Kanazawa would have been the single plan for the weekend. But not the weekend of the 1st and 2nd of June. Nope, I also planned a trip to Himeji the same weekend.
It turned out that David and David were in Japan again, this time hanging out a little South and West of Tokyo. I had a really good time last time we got together so I wanted to make sure we were able to meet again.
Once again, I had to be at Nagoya Station before 8:00 am. This time the mode of transportation was by train. I had to switch trains in Osaka, and apparently I hopped on the party train. The man next to me was eating a McDonalds hamburger at 8:53 am. Just the smell made my stomach hurt. The four おばあちゃん (middle aged women) in front of me though had a much more direct method of enjoying the train ride. They each popped open a beer and did a kanpai! (cheers!) before we got started. Party on ladies!
We knew before we got to Himeji that it would be under renovation so the few would be obscured by structure. It did not disappoint, it really was obscured. I had been to Himeji before, so my main purpose was just to hang out with Dave and David. Conveniently we crossed paths (literally) in Shin-Osaka station, although our seats were in different reserved sections.
We had an excellent tour guide who provides free English guided tours. It was probably good with the current conditions of the castle to have the guided tour. Unfortunately, the discussion I remember the most was here absolute enthusiasm when I mentioned "Crouching Tiger, Hidden Dragon." It turns out she is a HUGE Chow Yun Fat fan.
I was able to get some pictures, but not as many as the last time The Davids and I got together. Still, it was nice catching up with them and I look forward to seeing them in San Francisco one of these days.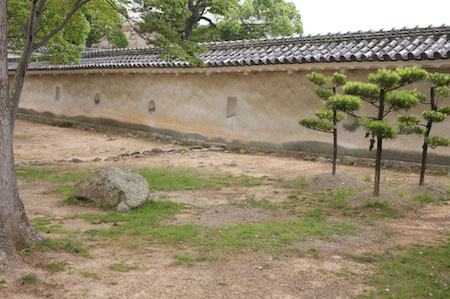 I left Himeji around 3:00 pm. I was pretty tired. It had been a rather long weekend and in just 4 days I was heading to Hong Kong.
And don't forget – no scribbles.