It has taken way, way, too long to get these posts up. Sometimes life conspires to keep you really busy, or really tired. After I returned home from Europe, I had a very busy week with two nomikais, a Japanese class, and really heavy jetlag. Then I had to take a business trip to the States. I arrived in the States, and I was prepared to write but jetlag won the battle, and what energy I had was spent at dinner with friends / colleagues. When I returned to Japan, I didn't know what time it was, and fought to establish normal sleep patterns. Today (or at least the day I first starting writing) is really the first day that I feel sort of normal, whatever that means. So I shall try to accomplish the first post.
I've added a gallery using Apple's MobileMe gallery. Check it out here.
This idea for this trip started out in a strange way. Tomo has worked with and become friends with the band White Lies and their management team / crew. Earlier this year, they invited Tomo to come to the UK and see them open for Coldplay at Wembley Stadium. That seemed like too much of a once-in-a-lifetime opportunity, so I used some frequent flier miles and we had reservations for London. We eventually realized there was a Japanese national holiday in there as well, so we lengthened our vacation and added Paris to the mix. I've been fortunate enough to visit London and Paris many times, but it was the first time in Europe for Tomo.
Tomo amazed at Paddington Station
Paddington Station
And of course we had the very familiar notice to mind the gap.
Tomo flew from Tokyo, I flew from Nagoya, and we met in Seoul for the continuation to London. That's right, Korean Air. It was a fine flight, always made better by business class.
In Seoul, ready for the trip ahead.
We stayed at the Grosvenor House JW Marriott near Hyde Park in Mayfair. Yes, that sounds very decadent. The hotel was very nice. It is a far cry from the first place I stayed on Montague Street near the British Museum. I walked down Montague Street this trip and noticed the two hostels I stayed at 20 years ago were still there and still hostels. I could see through the open windows that it looked like they still had the same bunk beds. That was the first place I ever stayed outside of the US. Who knew that in the 20 years following I would have had the opportunity to live in Australia, Europe, and Japan as well as travel around the world. I was grateful at the time to have a fantastic experience and highly recommend hostels to younger folks. However, I grew out of them, I am afraid to say. Tomo seems to have quickly graduated from the youth hostel experience and now prefers the Ritz-Carlton. Where did he get those tastes? He has stayed at more Ritz-Carlton's than I have.
I chose the Marriott for a couple of reasons – we've had good look at JWs before. Because I am an Elite member to their rewards program, we get a free upgrade to the Executive Floor, which also includes the very convenient Executive Lounge. Also, they had an incredibly good deal running which made it one of the cheapest stays I could find. It made sense.

Thursday, September 17
We had blocked out a plan for our visit already. Nothing firm, but we obviously wanted an idea what to see and do so we could be efficient. When we went to Bangkok either in the year, we arrived there and said, "Now what?" We decided that if we felt OK and the weather was good, we'd go to the London Eye. Originally I had no intent on riding the thing and was reluctantly being a trouper and going along. I'm not a big Ferris wheel fan, and I actually kind of dreaded it. We arrived, got checked in, had fine weather, looked at our watches, and said, "Let's go!" and made plans to eat on the way back. Fortunately we were right by the Jubilee Line which took us to Waterloo Station which was close to the Eye. London now uses a pass like the Suica called Oyster. It is very convenient. However, it took a long time to buy our card. Still we made it to the Eye was time to spare and boarded for our flight.
I will say the ride was pretty spectacular. The ride did not scare me nearly as much as I thought it would, most likely because the car was fully enclosed. What struck me though as we were rotating, is that the car is attached to the OUTSIDE of the ring, so the car is basically rolling around the rotating ring so that it always maintains the same orientation. You would not want the people to have to continually readjust like gerbils on a wheel. Tomo actually found the ride a little scary at one point.
The views were breathtaking, and I was able to snap a few pictures.
From the car looking into the exoskeleton,
The view from the Eye,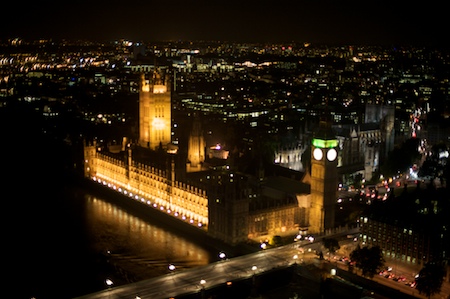 The view from top, looking back. You can see the structure of the car behind us.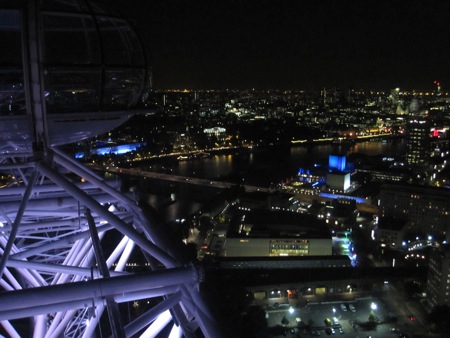 The Eye is on the South Bank side of the Thames, so we walked along the river for a bit and crossed the Westminster bridge for a terrific view of parliament and Big Ben. We also managed to see a guy with some of the worst looking saggers you have ever seen. Wide-butt people should not wear skinny jeans saggers. Only really thin emos can pull that off. He couldn't. It was Fashion Week in London, but somehow I don't think he was involved.
Tomo, tired along side the Thames
The Eye from the north side of the Thames,
Tragic saggers,


Friday, September 18
Both Tomo and I are Ben Sherman fans. Although I think I introduced the brand to Tomo, it is appropriate to say that he has embraced it fully. Since Friday was our day at Wembley Stadium to see White Lies / Coldplay and we needed to get there plenty early to figure out just what the arrangements were, we thought it would be a good idea to hit the shopping early. That would allow us to rethink purchases, make one last run later, etc. What better place to start than Carnaby Street, the heart of the Mod scene in the 60s and 70s?
On my first visit, I had gone to Carnaby Street, knowing that it had been a fashion center. When I went though, I was thoroughly unimpressed as most of the shops had left and it really wasn't anything special. Now, however, it seems that in the last 10 years, the area has been renovated and flagship stores have opened. Ben Sherman is there, Merc is there, Fred Perry is there, and other spiffy brands. We beelined to the Ben Sherman shop like kids on Christmas morning.
Tomo as we were heading towards Carnaby Street, excited as a kid on Christmas morning.
We stopped by Top Shop on the way there, as we were up very early due to jetlag. There were some Ben Sherman clothes there too, but nothing as good as we supposed would be at the flagship store. As we entered the shop, it seemed to me to be about the same size as the LA shop in the Beverly Center. There was some construction going on in the store as well, and that gave the shopping experience an odd feeling. Sometimes the anticipation of something great can lead to some disappointment, and Tomo quickly learned that the UK shops do not carry XS size (nor do they carry kids sizes but anyway Tomo refuses to wear large kids clothes). In spite of the lack of clothes his size, I do believe that we touched every article in the store. I had no trouble finding clothes my size, and left with two sweaters and a shirt. I could have bought a LOT more, but with the weakness of the dollar against the pound, I had to be careful. Yes, although I live in Japan, I earn dollars, so shopping can be a bit harrowing abroad. Tomo did not leave empty handed, and is now the proud owner of 8 pairs of Ben Sherman socks.
We walked across the street to Merc, and fortunately, Tomo was able to find some nice (and expensive) clothes there. Merc carries on the Mod tradition as well, with the Union Jack buttons.
It is interesting to note that almost every shop we went to in Carnaby Street and seemingly London had a picture of The Jam or Paul Weller. The man is a mod icon. We were lucky enough to see him in a small venue in LA two nights in a row, doing Jam, Style Council, and Paul Weller material.
Ben Sherman is moving in to the custom suit market and we learned a brand new shop on Savile Row had opened that day. We went, found the salesman speaking way to quickly using custom suit lingo we didn't understand, and the prices higher than we desired. We left.
We also visited Paul Smith somewhere – I've forgotten where. I love Paul Smith, but cannot quite understand their pricing. In London, they were priced in a range that I was unwilling to visit. Without getting too personal, I have a pair of Paul Smith underwear that I bought in Japan. Basic short boxer brief with traditional Paul Smith stripes. I don't think I paid more than 2500 yen in Japan, about $25 when I bought them. In London, they sell for 30 pound. 30 quid!!! That's about $48. I think that's the first time I've ever found anything to be cheaper in Japan than elsewhere in the world.
We wandered through Picadilly, and we got a picture of Eros.
We must have had an uninspiring lunch, because I have no recollection of what we ate (Tomo reminded me – it was nothing). London food is much better than when I first went, but a quick lunch is still a quick lunch.
The big event of course, was the concert. And this is when we threw our planned itinerary out the window. The Coldplay lineup got bigger and bigger, so the show was now White Lies, Girls Aloud (who?), Jay-Z, and Coldplay. Since White Lies was going on so early (about 5:00 pm), they booked ANOTHER gig for the same night in Brighton. It was going to be impossible to get from Wembley to Brighton by ground transportation, so they were taking two helicopters from Wembley to Brighton and asked Tomo to go along. Tomo only. No space for me. I found this out just before our trip and it did not go over that well with me because I knew that since Tomo was missing the Coldplay show, he would want to go to the show again on Saturday night. I really didn't want all my time in London to be dictated by Chris Martin and friends, and I really didn't feel like paying for the show that I had already seen three times. After a lot of proposals and negotiating, we determined that we'd go together to Wembley on Friday, and maybe Tomo ran the risk of getting bumped from the helicopter anyway. Saturday night we'd each be on our own and Tomo would go to the concert without me.
We were both pretty excited to be going to Wembley for a show, and even more excited that we were comp'd. We were not quite sure of what that meant though. We followed the steady crowd up to Wembley Stadium, and then began our search for ticket windows. We found the sign for guest list people and figured that was us. We went to the counter, said we were on the White Lies guest list and, sure enough, we got an envelope that said Tomo + 1. Tomo opened up the envelope and I expected to see a couple of tickets or maybe a pass. No tickets in the envelope, just two stickers with the tour logo, the access (working), the venue and date (Wem 1 18/9) and the band, (WL – White Lies). This looked promising.
Besides the times I played trumpet supporting a band back in my youth, I had only ever had one all access pass. I knew that we needed to find the magic door that would let us in. Finally, one security guard seemed to know where we were supposed to go and directed us to the crew entrance. We found the entrance, slapped on our stickers, and we were in! Foolishly, I stuck mine on my shirt. Any good rock and roller knows that you put them on your jeans. I took them off my shirt and restuck them to my jeans, worried that the adhesive was a one shot deal and I'd have a pass that fell off sometime in the night. The pass, fortunately, remained fully adhered to my jeans.
At this point, I can best describe our general feeling as a Spinal Tap. We were deep in the functional part of Wembley Stadium, feeling like at any moment we'd be recognized as impostors and duly thrown out of the venue. Yet, we had credentials. We wandered around a bit and a few helpful people said, "Can I help you" and my heart skipped a beat. Tomo smartly asked the directions to the dressing room, we got them, and headed there as if that was exactly where were supposed to go. We got yelled at once for walking in the road, and that caused us a little panic. Somehow we found the dressing room area, walked passed the Coldplay Friends and Family pen, and found the White Lies dressing room.
The entire time we were traveling to Wembley and then in our search, we were carrying 8 boxes of white powder. We were really worried that we were going to have to go through security and they would reject us. Tomo had brought 8 boxes boxes of Pocari Sweat mix. He introduced White Lies to the sweet elixir when they were in Japan and they have declared the ultimate hangover cure. We made it in to the dressing room and "the boys" were definitely glad to see Tomo. They were shocked to see the 8 boxes of Pocari Sweat as well.
The dressing room, all to myself, after everyone left for Brighton.
We hung out in the dressing room for a while, and I was very impressed how normal the guys in the band were. They are young, just 21, and are definitely working really hard and have had a grueling touring schedule for the past year or year and a half. Hopefully they'll continue with the success they've had so far. Tomo and I headed for the floor to watch "the boys" perform.
Wembley, filling up 4 hours before Coldplay would take the stage,
Tomo excited to see White Lies and Wembley.
I will say they totally killed the set. Very tight, enthusiastic to be at Wembley but still very professional. They really sounded good.
I saw the band and Tomo off at the shuttle bus to take them to their waiting helicopters. I went to the Girls Aloud gig and really didn't get them. I learned that they were created from a reality show and have actually been hugely successful in the UK. The crowd seemed to love them. They sounded fine, and I think they were really singing, so they obviously have talent. When I was hanging out in the dressing room area prior to the Coldplay show and security was trying to wrangle the little girl friends-and-family, one of the Girls Aloud performers walked by and the little girls went screamingly crazy. Um, what about Coldplay?
Jay-Z came on next and I really found that I wasn't interested in his show and I was getting hungry. I wandered backstage for the catering, and had a delicious Pad Thai. I soon came to realize that, in the hierarchy of passes, our pass was top dog. I hung out in the dressing room, then in the hallway just to see what celebrities may appear. Indeed, I saw Gwenyth. She's tall. Here are a few more pictures of the backstage.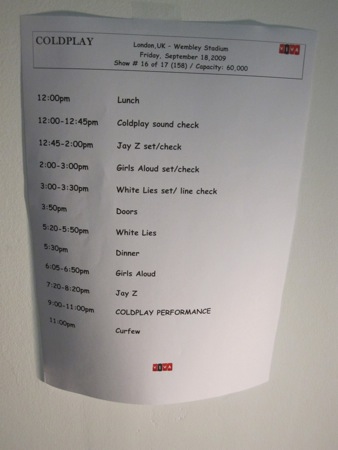 The Coldplay show was similar to what I had seen before. They are getting a little over the top. They had this X-Factor / Simon Cowell shtick during "Yellow" that was, frankly, a little embarrassing. Still, the show was good, I just think I have seen it too many times. After the end of every large event though, you have to leave the facility. People kind of trickle in, but then everyone leaves at the same time. They used horses as crowd control gates between the stadium and the train station. And interesting idea, but seemingly a little dangerous. One horse gets a little frisky and people could get injured. Plus, you have to walk through horse poop if you pick a bad path.
Horses acting as gates at Wembley Stadium,
I made it to the hotel and Tomo followed not that much later after a fun helicopter adventure to Brighton and a personal drop off after the gig by the manager. That was one heck of a first full day in London.

Saturday, September 19
Our Saturday plans were modified a bit because Tomo was now going out to Wembley again to see the full set. Our morning plan was to go out to Notting Hill / Portobello Road and look for Hugh Grant. I did my Hugh Grant imitation (that's taking off my classes, squinting, and mumbling and stumbling a few words until I make an ironic point, all with a very bad Oxbridge accent) and that is the best we could find. I had never been to Portobello Road before, so it was a new experience. I had been to Camden Locks market. This didn't feel the same, although it was just as crowded. I'm not much of a market shopper, but it did make for some interesting photos.

You can find higher resolution and black and white versions of these and other pictures here.

One thing I noticed in the UK and in Europe in general was a lot of Japanese language on clothing, but sort of incorrect. Kind of like the strange English we see on t-shirts here.
This probably is not a product from Japan, judging by the grammar on parts of the bag. But it is close, and looks cool.
Also part of the plan was a pilgrimage to Rough Trade Records, and a pub grub lunch. I had bangers and mash at a pub called, "The Cow."
We experienced the joys of the London subway as we tried to make it from Portobello area to Sloane Square. As London ramps up for the 2012 Olympics, they are doing a lot of infrastructure work. While it will be great in 2012, it really sucks at times trying to get around. Stations are closed, lines are shutdown, and trains are delayed. It took us about an hour to get to Sloane Square and the King's Road Kensington area, which didn't leave us much time to wander around.
Tomo went back to Wembley and I started walking, and walking. This trip was ostensibly to find a pair of Doc Martens shoes. I was told that there was a shop on Carnaby Street, but I couldn't find it. Then I decided I would look at the bookstores on Charing Cross and somehow ended up in a Borders. I walked from the hotel in Mayfair, back to Carnaby Street, then to Soho, over to Charing Cross, up to Tottenham Court tube station. I was shocked at Tottemham Court Road and Oxford Street. What happened to the buildings?!? A number of buildings had been torn down including the original home of the G-A-Y club – a landmark in London. I wandered to the British Museum and then to Montague Street and saw the hostel I stayed at 20 years ago. I wanted to walk to Covent Gardens but kept making bad decisions and ended up at Charing Cross Station. There I found a footbridge across the Thames that I had noticed from the Eye. Not what I was planning. It was sprinkling every so often. I was getting REALLY hungry at this point, so I went to a Pizza Express which really isn't express. As I was sitting there, the skies opened up and drenched everything. It rained really hard, and I was without an umbrella or raincoat. It isn't like Japan where you can always get an umbrella for 5 bucks at a convenience store. I thought I was in trouble. But I took my time eating and then the rain stopped. That was it. I wandered around Leicester Square a little bit, was wiped out, and went back to the hotel without Doc Martens or a book. I did take some pictures. Here are some typical London photos.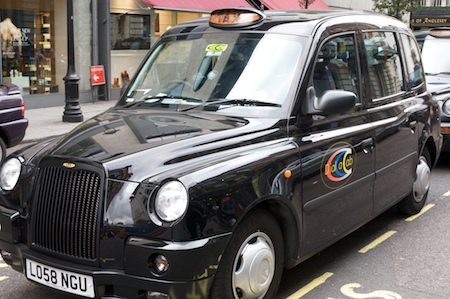 Sunday, September 20
Another full day planned, this time starting the morning at The British Museum. Tomo hasn't had a chance to go to Greece, but he doesn't need to because it is all in the British Museum for safekeeping.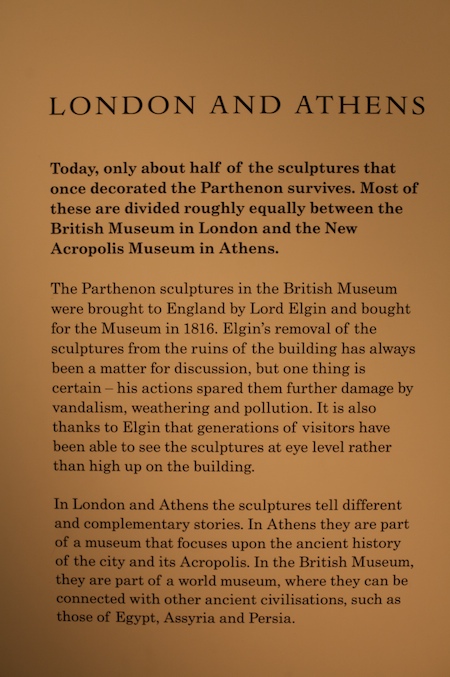 I have mixed thoughts about the scope of the Greek collection. Perhaps it once made sense to have them at the British Museum, but the world is different now than it was when many of the important artifacts were taken by the British. Anyway, it is an interesting story.
Of course we saw the Rosetta Stone as well. I seem to think that the first time I saw it was in the reading rooms, and the display was pretty simple. I could have touched it. Now it is protected. I didn't realize that it was originally discovered by the French but then turned over to the English through a treaty. I didn't take a picture of the stone itself. Odd.
The British Museum has a new Great Court. At least new to me, but apparently built in 2000. I have no recollection what was there before. It must have been a courtyard of some sort, but I cannot remember. I'll have to check some older pictures. The space is nice though, it definitely shines in its whiteness.
We went through parts of the museum. There's just so much to see and you can't begin to think you can see it all in a day. Plus, it is easy to saturate. We picked a few places and checked them out. Still even with an abbreviated itinerary, we were still there for a while. I was able to get a good picture of a status of Hadrian's beau Antonious.
We walked through room after room of Greek, Roman, and Egyptian artifacts. I don't like mummies – shouldn't they not be on public display? We also checked out the Japanese exhibition area. We found the old reading rooms of the library to be a recreation of reading rooms of the past. Hmmmm. Apparently the British Library has moved and now the British Museum is using that space as a time capsule!
Tomo's guide book had recommended The Fryer's Delight for good fish and chips. I was thrilled, because 20 years ago my guide book recommended the same restaurant. I knew it was authentic so I was glad he wanted to go. We wandered down from the British Museum, arrived at the shop, and discovered it was closed on Sunday. Very authentic! The guide book told us that, had we bothered to read the details. We headed to Covent Garden to do some shopping (again). We decided for pub grub fish and chips, and the place we chose had fish and chips on the menu but when we ordered they told us they didn't actually have any. Strange. So we left. We ate at the Prince of Wales and had OK fish and chips. We went on to Covent Garden and did some shopping – more Fred Perry, Doc Martins, Paul Smith, and Penguin. Why did I buy a Penguin hoodie in London? Why not.
We walked back up through Chinatown and had coffee in Soho.
We tried to make Sunday a traditional British food day so we planned on Indian for dinner. We realized we hadn't had good Indian yet, and to me that was always a London requirement. Tomo's book recommended a restaurant on Brick Lane in London's Shoreditch area. Shoreditch seems to be up and coming, My TimeOut London described Brick Lane as, "may be world famous for its curries, but the rise in reputation has been mirrored by a decline in quality." I can agree to that, and the restaurant we went to did not really impress me much. Also maybe because the restaurant doubled the tip amount I put on my credit card.

Monday, September 21
Our last day in London. Ostensibly a travel day, but through the wonders of late checkout and the Eurostar we were able to make quite a day of Monday as well. No self respecting Japanese would visit London without a visit to department stores. We went to Selfridges and saw many nice things, and then both got lost in HMV for a while. I had forgotten what record and DVD shops were like. I was able to get Season 1 and 2 of The Inbetweeners. Very funny show, but definitely not safe for work.
Of course, we had a visit to Harrods to pick up おみやげ for friends and colleagues. I was able to pick up some afternoon tea for my translator. Harrods was pretty impressive, although I was scared by the wax figure of Mohamed Fayed. We shopped around a little bit in the food court and walked through the men's store (where we found Mohamed) but finally we were saturated with shopping.
Outside Harrods,
Inside the food shops at Harrods,
High on the food list was a restaurant called Gourmet Burger Kitchen. There was one sort of near Harrods, so we hightailed it there for lunch and had a delicious and expensive burger. I do recommend it, but not if you are traveling on a budget. We went to the hotel, finished packing, and then went to St Pancras International Terminal to catch the Euostar to Paris!
St. Pancras is the new home of the Eurostar and has been renovated beautifully. Previously I took it out of Victoria Station. I learned that booking ahead of time would have been smarter – I guess I have gotten too accustomed to Japanese trains. Japanese trains cost what they cost, no special deals. Well, I got no special deal on the Eurostar either! I also think I have been spoiled by the trains in Japan because I found the Eurostar to be incredibly cramped. However, I can't complain because we safely crossed the channel underground, emerged in France, and eventually arrived in Paris.
And so ends my first report from vacation. I hope you made it through it.
Remember, you can find higher resolution and black and white versions of some of my pictures here.