In this time of staggering economic troubles, I feel a little odd staying at a resort on an island in Thailand. It doesn't feel like I should be living so extravagantly, even if my extravagant is not that outlandish. I hope I am getting the appropriate karma credits somehow and the karma police will not punish me. Monday I was reading all sorts of super scary articles in the newspaper as my vacation began.
Today was our first real day on Koh Samui. Since it is an island resort on the beach, it seemed appropriate to go to the beach and swimming pool. I don't want the kind of tan that I sought as a youngster – and as a matter of fact I am afraid my skin shows a little of that over-exuberance. Still, I am at a beach, I do have free time, and it seems I should get a little bit of a suntan. I lathered up with sunscreen though, telling myself that SPF 20 was more than adequate. My sun block worked well in all the places that it reached. Unfortunately, I have an archipelago of sunburn running from my left armpit down towards my navel. If I had a body to die for I'd take a photo for your amusement. Unfortunately I'd have to do some photoshopping to get the body I desired so I'll pass on posting (alternately, I could actually work for the body I desire).
We decided to go to Chaweng in the afternoon for a visit to a spa that Tomo had read about as well as dinner at a restaurant there. Transportation around the island is not easy and, quite honestly, the taxi rides are Tokyo / New York prices. All taxis are metered and no taxi uses the meter. All prices are negotiated but seemingly fixed. Since our resort is fairly isolated, it was good to get into the "city." Chaweng reminded me of a really clean India or a little bit more rundown Greek island.
 
We went to the Is Spa where they specialize in hot stone massages. Hey, if that is their specialty then why not go for it. We ordered two hot stone massages and entered in to a peaceful world of oils and stones rubbed all over our bodies. It was definitely a good experience. I had, "hot, smooth, volcanic pebbles … placed on [my] various chakras (natural body-meridians) by two therapists who combine the use of essential oils and the movement of the stones to stimulate [my] lymphatic system, helping to detoxify [my] body." It was moderately difficult to emerge back on to the hustle and bustle of Chaweng after the message.
The Is Spa is associated with The Library, a total boutique hotel in the middle of a mess. We wanted to eat at The Page, the restaurant associated with the hotel. The Page is right on the beach and tonight the air was comfortable and we had a nice breeze keeping us feeling good. The food was good as well, and tonight we opted for western fare instead of Thai. I felt like I was at a trendy LA restaurant.
Here's the sign for The Page. Note all the wires running above.
 
Here's the entrance to The Library.
 
And here's the famous red pool (is it filled with blood?) at night.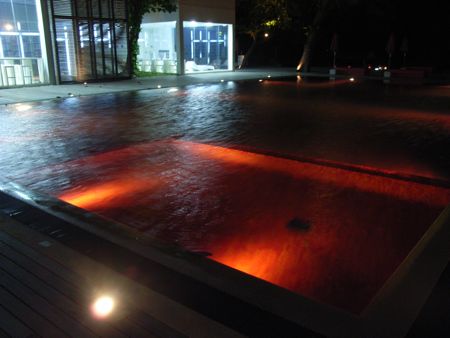 Our resort isn't too shabby either and I took a few pictures this morning and when we checked in.
And the door handle in our room.
 
That's all for now. I want to relax!